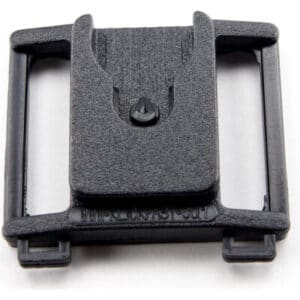 Klick Fast docks and studs are the most effective way of safely carrying two way radios and other devices.
The system gives the user a choice of how and where to carry their device.
The Klick Fast dock is at the heart of the system. It is very durable and has a very small form factor. Klick Fast docks and studs can be added to almost any carry case as well as numerous other items of equipment.
To operate the Klick Fast system the user simply inverts the two way radio and slides the stud into the dock. Then the radio is rotated through 180 degrees to lock the device into place.
The two way radio or other device can be rotated to any one of seven positions where it will remain securely and safely until moved by the user. Undocking is just as simple. The user simply rotates the device through 180 degrees and slides the stud out of the dock.
New Klick Fast Docks Available
Klick Fast have now introduced a range of new docks. These extend the range even further making Klick Fast even more widely available to more users. These include:-
DOCK05BC – a screw on dock fitted with a leather covered belt clip for fitting to belts and waistbands.
DOCK05BVELCRO – a soft leather belt loop with dock attached. The Velcro fitting permits use on belts up to 60mm.
DOCKBUTTONM & NF – a low profile and discreet dock using buttons as a means of attachment. Ideal for use with body worn cameras and videorecorders as it lets the user adjust the height from the floor. This uses the two buttons on a standard button down shirt. Male and female versions are available.
DOCK06/EV02 – these docks are designed to be sown directly onto clothing. Now available in a range of colours to suit different uniform colours and designs.
/SSHLDER18KF – a new style of fully adjustable chest harness with the dock attached so that it is positioned just below the left shoulder.
Go to our Klick Fast page and see the huge range of docks we offer. Docks are available for fitting to clothing, dashboards, flat surfaces, helmets and even bicycle handlebars.